Unless you've been living in a cave during the last nine months, specifically since Cisco Live US 2019, you should know that last Monday, February 24th, was the D-day for big changes in Cisco certifications.
Here is a short summary of the major changes and what to remember about them.
Changes on current certifications
Associate level
The various CCNA certifications have been consolidated to only one now. And the CCDA also disappears. Remaining certs at associate level are:
CCNA
DevNet Associate (I will talk about DevNet certs more in details below)
CyberOps Associate
Professional, Specialist and Expert levels
CCNP and CCIE Routing & Switching (R&S) track is called now CCNP Enterprise, CCIE Enterprise Infrastructure and CCIE Enterprise Wireless.
The certification technology tracks for CCNP and CCIE have been consolidated to:
Enterprise
Security
Service Provider
Collaboration
Data Center
At professional level, each of these tracks contains a Core exam and many specialist exams, called Concentration exams.
To obtain a CCNP certification on one of these track, you must pass one core exam and one concentration exam of the track. This, in any order. And there is no more prerequisite for the CCNP level.
For each core or concentration passed exam, you will receive a specialist certification.
In brief: one passed exam = at least one certification.
To obtain a CCIE certification in one of these track, you must pass the professional core exam of the track (the same core exam as for the CCNP level). And then, the corresponding CCIE lab exam. Once you passed the core exam, you have three years to pass the lab exam. No more CCIE written exam.
Here is a list of the current exams: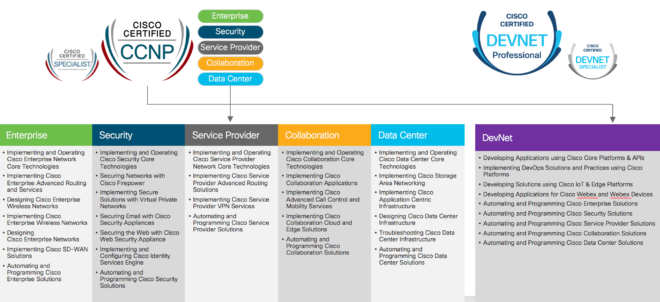 (click on the image to see a larger version)
CCIE Lab changes
The CCIE lab exam format also change. The lab exam consists of two modules that are fixed in time and will be delivered in a fixed sequence:
Module 1: Design (3 hours)
Module 2: Deploy, Operate and Optimize (5 hours)
Automation and Network Programmability skills are an integral part of both modules.
New DevNet certifications
The new DevNet certifications include:
Cisco Certified DevNet Associate
Cisco Certified DevNet Specialist
Cisco Certified DevNet Professional
The principle is the same as for the others Cisco certifications: to get the associate level, there is one DevNet associate exam to pass. And to get the DevNet CCNP certification, there is one DevNet core exam and one DevNet specialist (concentration) exam to pass.
Each DevNet specialist (concentration) or DevNet core exam passed gives you a DevNet specialist certification. And some of the DevNet concentration exam are also part of the CCNP tracks of others technologies.
Since a picture's worth a thousand words: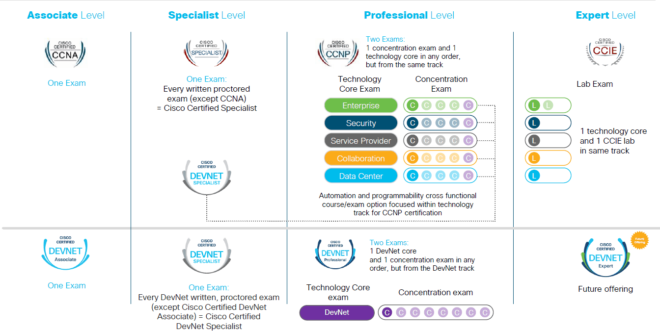 (click on the image to see a larger version)
Certifications validity
For all level of certifications this is now the same: recertify every 3 years.
Renew a certification
We are now able to recertify by either taking exams, earning Continuing Education credits or a mix of both. Continuing Education activities include attending Cisco Live training sessions or completing training courses and more.
More details here: https://www.cisco.com/c/en/us/training-events/training-certifications/recertification-policy.html
And for more details on Continuing Education, go to: https://ce.cisco.com
More information
Cisco Training and Certification Frequently Asked Questions (FAQs)
Cisco Next Level Certifications Website
Cisco Learning Network Certification part
---
Did you like this article? Please share it…